Polyepoxysuccinic Acid (PESA)
Polyepoxysuccinic Acid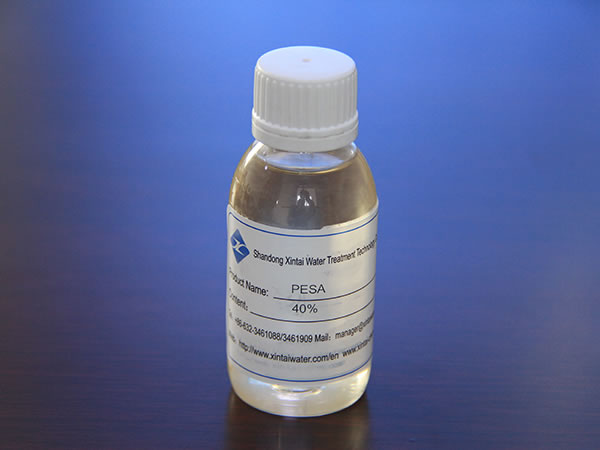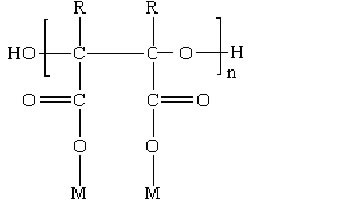 Synonym: Polyoxirane-2,3-Dicarboxylic Acid
CAS No.: 51274-37-4, 109578-44-1
Molecular Formula: HO(C4H2O5M2)n
Molecular Weight: 400-1500
Properties:
PESA is a multivariate scale and corrosion inhibitor without phosphor or nitrogen, it has good scale inhibition and dispersion for calcium carbonate, calcium sulfate, calcium fluoride and silica scale. Compared to ordinary organophosphines, it has better effects. When it is compounded with organophosphates, the synergism effects are obvious.
PESA has good biodegradation properties, it can be widely used in circulating cooling water system of high alkalinity, high hardness and high pH value. PESA can be operated under high cycles of concentration. PESA has good synergism with chlorine and other water treatment chemicals.
Specification:
| | |
| --- | --- |
| Items | Index |
| Appearance | Colorless or amble transparent liquid |
| Solid content % | 35.0 min |
| Density (20 ℃ )g/cm3 | 1.28 min |
| pH(1% water solution) | 7.0 min |
| Biodegradation rate % | 60 min |
| Limiting viscosity number (30 ℃ ) dl/g | 0.030-0.060 |
Usage:
PESA can be used in system of oil field water injection, crude oil dehydration, and boiler water treatment;
PESA can be used in circulating cooling water systems of steel, petrochemical, power plant, medicine.
PESA can be used in the situations of high alkalinity, high hardness, high pH value and high cycles of concentration in boiler water treatment, circulating cooling water treatment, desalination plant, and membrane separation, and other fields.
PESA can be used in detergent fields.
Package and Storage:
200L plastic drum, IBC(1000L), or as customers' requirement. Storage for ten months in shady room and dry place.
Safety Protection:
It is alkaline. Avoid contact with eye and skin. In case of contact with body, rinse immediately with plenty of clean water.