Corrosion Inhibitor (for Hydrochloric Acid Cleaning)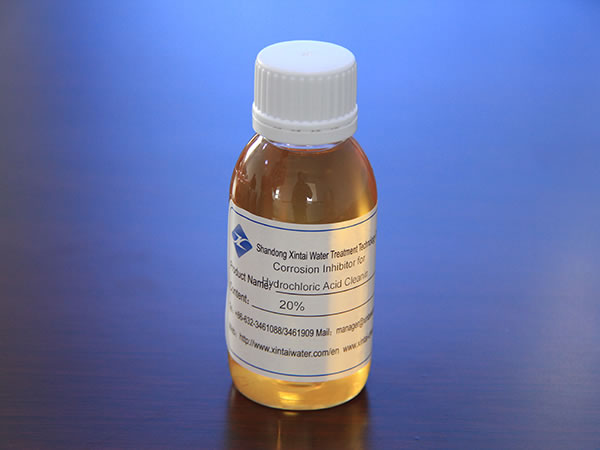 Properties:
This product is a kind of imidazoline corrosion inhibitor. When cleaning metals with hydrochloric acid, adding this corrosion inhibitor can effectively inhibit steel corrosion
Specification:
Items
Index
water solution
Acid solution
Appearance
Amber liquid
Dark brown liquid
Solid content %
20.0min
4 0.0 min

Usage:
The precondition of using this product is that the cleaning agent is hydrochloric acid, and the cleaning object is black metal. It is suitable for acidic cleaning of all types of high, medium and low pressure boiler, large scale equipment and pipelines. When the dosage is 1-3‰, the corrosion rate will be lower than 1g/m2•h.
Package and Storage:
200L plastic drum, IBC (1000L), or as customers' requirement. Storage for ten months in shady room and dry place.
Safety Protection:
Avoid contact with skin or eyes. In case of contact, clean carefully with alcohol for it is acid-soluble.
The corrosion inhibition effects in different condition
Acidic cleaning
Dosage
Corrosion rate(10-4)G/(m2•h)
Corrosion inhibition rate (%)
Sulfaminic acid
0.1%
4. 7961
9 6.18
0.2%
2.0 083
98. 46
0.3%
1. 2992
98.9 6
0.4%
1. 2990
98.9 7
Sulfuric acid
0.1%
11.2538
87.93
0.2%
6. 4819
98. 10
0.3%
4.9 798
98. 70
0.4%
4.9 826
98. 70
Hydrochloric acid
0.1%
1. 1988
97. 83
0.2%
0.7 016
98. 77
0.3%
0.39 35
99. 31
0.4%
0.3 792
99.3 7