Chlorine Dioxide Solution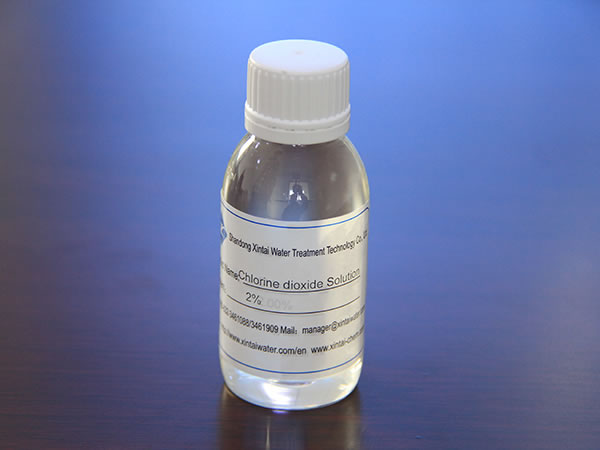 CAS No.: 10049-04-4
Properties:
Chlorine dioxide (ClO2) is a strong oxidant. It is not carcinogenic, teratogenic, or mutagenic. Compared with chlorine, chlorine dioxide has the following advantages: It can kill not only general microbes, but also fungal spores and viruses; it doesn't react with ammonia, phenol or unsaturated compound; the change of PH value barely affects the bactericidal effect. So it is especially suitable to work as bactericide in circulating water fertilizer plant. It can completely replace chlorine and non-oxidizing bactericides, and therefore it's very economical.
Specification: Conform to HG/T2777-1996
| | |
| --- | --- |
| Items | Index |
| Appearance | Colorless or light yellow transparent liquid |
| content % | 2.0 |
| Density ( 20 ℃ ) g/cm3 | 1.020-1.060 |
| pH | 8.2-9.2 |
Note: Customized chlorine dioxide solutions of different concentrations are also available, such as 4%, 6%, etc.
Usage:
Chlorine dioxide is a kind of bactericide with properties of broad spectrum, high efficiency, low toxicity and nonirritant, it is the ideal bactericide in drinking water, circulating cooling water system, sterilizing facilities for environment, food fresh keeping, etc. It can also be used for bleaching paper pulp and fabric. It can take the place of chlorine, when it is used in circulating cool water system for bleaching the sugar and disinfection of food and equipment.30-50mg/L every 3-7 days .With acid activation treatment before use.100-200mg/L when it is used to slime remover.Once activation treatment,please used at once.
Package and Storage:
25kg in plastic drum, or as the requirements of clients. Storage for ten months in room shady and dry place. It is forbidden to store with acid.